Today's
NaNoWarmUp
community question is a really good one--how to stay on task with the WIP when shiny new ideas crop up at the rate of mushrooms after a spring rainstorm (or in my downstairs bathroom, but that's a different story entirely).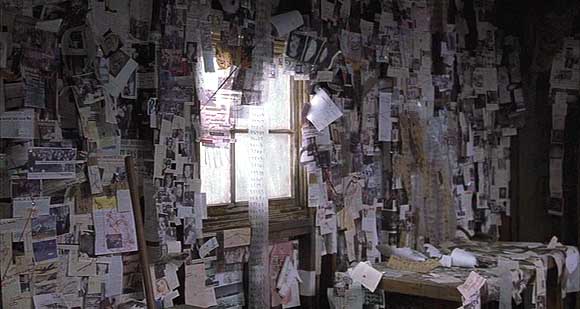 I've touched on this
before
, and I stand by it--writers are mapgies. Creativity magpies, at any rate, and we're drawn to the shiny things our own minds create. And create they do! Because I think most writers are creative, imaginative, layered, interesting people whose minds are constantly churning and probably look a lot more like that shack in
A Beautiful Mind
than the "after" pictures of an organizing makeover. I tend to think that ignoring those creative impulses isn't beneficial--bury them too long and they start to atrophy. But you can't go running after every sparkly new idea and expect to finish everything, either.
What to do?
I give in--but only a little.
When an idea strikes that I can't shake, I write it down. I have a big blue notebook devoted to the purpose. (Savannah Foley writes an ode to these wonderful notebooks
here
, by the way. Scrounge the Barnes and Noble clearance section and discovery why they have such a loyal following!)
You know what? Having that reserve of ideas comes in really handy. For one thing, letting an idea marinate is a great test--I put it in the notebook, and if I'm not so jazzed on it when I pull it out again, the likelihood I ever could have spent the months and pages upon pages it would have taken to develop it into a novel is very low. For another, it gives me a place to go for inspiration, a sort of idea candy store that I can go pick something out from when it's time to start a new project.. My WIP--which just crested (YAY!) 50K--started as a shiny idea of just one scene that I jotted down over a year ago.
Another thing to keep in mind--if your intention is to be a lifelong writer, to make a career out of this thing, there may come times when you're going to need to put one project aside for a while. And it's not wise to just sit on your hands at that point, so having a cache of ready-to-go ideas gets you in back into the writing game quickly. For instance, while my agent had the draft of the manuscript I'd finished, and I was waiting on her revision feedback and notes, I started on a Shiny New Idea. That Shiny Idea is now that 50K I mentioned. I love it. And working on it while I let my other project settle refreshed me and gave me better perspective on the revision than if I'd tried to stay in the trenches with only one project.
How do you resist the Shiny? Do you write it down, or let it marinate, or follow it where it leads right away?