I've blogged before about my love of B movies and the lessons they can impart to the fiction writer. I dissected the plot of
Plan Nine from Outer Space
to to discover what didn't work (
answer? Nothing worked
). I examined the effectiveness of the characters in
Eegah
(conclusion: when a hairy man-beast from a prehistoric era is your most likeable character,
you have a problem
).
Last night I indulged in The Beginning of the End, in which 1950s hysteria over atomic anything resulted in a movie about a cloud of giant locusts swarming Chicago.


I love a good giant bug movie. Them, The Deadly Mantis, Horrors of Spider Island. All good stuff. In a really bad way. But they can illustrate very well the age-old principle of biting off more than you can chew.


Lesson? If you can't swallow an entire swarm of giant locusts, don't bite one. Or something like that.


So the plot is skimpy, the characters are sketches. I'm not going to nitpick this, because in your average movie about giant bugs, let's be honest--you're going for the giant bugs. Yes, the plot could have been better drawn and we could have had real, rounded characters instead of caricatures. But the problem--the real problem--with End were the bugs themselves.


It seems the creators of the film had just discovered that you could superimpose one film on
another, and voila! Giant grasshoppers attacking stock footage of soldiers! Perfect!
Except...it doesn't quite work. In fact, it doesn't work at all. You just get random large bugs scuttling across the screen and not actually interacting with anything.


OK, so we can't be one-trick ponies. I know! We'll have the bugs scale a building! How to pull that off...Yes! We'll have a few grasshoppers climb a postcard of a building! That will work!


Except...the bugs are constantly stepping off the "building", which has a slightly odd glare to it.


What does this have to do with writing? After all, writers aren't special-effects artists. We don't have to worry about low budgets or non-existent technology.


But we still have to know our limits.


I might get lambasted for saying this. Still, here's the thing--we're not limited by tech capabilities or dollars in our craft, but we are limited by talent, craft, and know-how. I'm speaking from experience here, not pointing fingers at anyone but myself. Not every idea a writer has is an idea he or she can pull off--at least not yet.


Confession time: one of my drawer novels is a multi-POV project that dealt with a lot of different issues, complicated plotlines, and twists I hoped no one would see coming. There's some good writing in there--I honestly do believe that. But as a whole, it's not there yet. It's not there because I wasn't there when I wrote it. Maybe someday I could revise it and it could be sparkling. Much more likely? I'm going to revise it and pare it down to something I can tackle at the skill level I'm currently at as a writer.


That's the thing about writing--a lot of other creative crafts, too. Unlike athletic prowess or beauty-queen competitiveness, your abilities as a writer will only improve and expand with time, experience and practice. What you're not able to pull off now--maybe it's a deeply nuanced character or a rip-roaring plot--is something you'll grow into.


What I'm not saying, however, is that you don't try the stuff you can't handle. We don't grow if we don't push ourselves. Write the stuff you're not sure you can do. Dive in. Try it. When it's done, and it's a giant grasshopper mess, don't try to peddle it to the world a la The Beginning of the End. One of the greatest skills in any art is to know when you have a haunting, stunning giant bug film--and when you have a reel of celluloid covered in tobacco juice.*


Practically speaking, this is where flash fiction, short stories, and other non-novel length works can be your friend. Devoting the time to write a novel that's over your head--that's commitment to something rather shaky. (Still not saying it's bad to take the risk--but you don't have to if you don't want to.) But a short story? Experiment. Learn. Grow.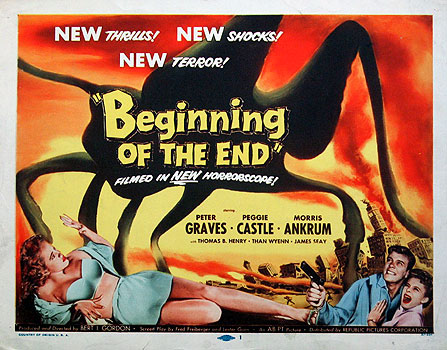 *Other people call the nasty, staining brown spit that grasshoppers produce tobacco juice, right? Or am I a hillbilly?